Apr 1-2 Dayco National Snowcross Finals Barrie, ON

My last race for this season is coming up this weekend. It's also going to be my last race at the #csrachampionship because I have decided to retire my snowcross career after this weekend.
I can't say it is a easy choice but I can't find a better place and a better team to retire with. Three seasons ago I signed up with Baileymotorsports and that's the best thing that I could have done. Not only are Baileymotorsports my race team but it is also my family. The Hunt Family have done so much for me that I don't know how I can say thanks for everything, I will miss you guys so much! All the team members have been working so good together and together we made this team grow bigger and bigger every season!
I'm proud to say that I have been racing for #Baileymotorsports! A huge thanks to the sponsors that have been backing us up, it has been a pleasure to work with you guys! But not only have I been racing here, I have made lifelong memories and friendships! With out you guys it wouldn't have been as easy to been away from family and friends back home for this long.
To all the people, sponsors, family and friends that have been helping me back home to be where I'm today,Thank you! Is has been a 15 years long hell of a ride!
I have meet so many good people that have been helping me that also been the reason why I'm, who I'm today, Thank you!
And a special thanks to my Mom and Dad<3 this would never have happened with out the best and biggest support for you two! Thanks, Love you 🙂
So it is time to open new doors in my life and I'm looking forward to see what's waiting behind this doors. I will keep you guys updated through the summer on what's going on thank you ???? #stillgunnasendit
Ståle Eggen #799

"A season to remember. With ups and downs throughout the whole season my second year being in Pro Lite went better than I could've ever thought it could. Getting on the podium several times and three times in the number one spot I'm definitely pumped on those finishes. Throughout the year I had lots of ups and downs some crashes but many good races, races that out way all the bad. Lining up on Friday I didn't have too much good luck in my racing needed to improve for Saturday. Saturday I had good Moto's and not the greatest start in the final leading me to finish in the top 10. Although the weekend so far hadn't been looking up I tried my hardest to look at the bright side and stay positive as it was the last day of racing for the year. Having good Moto's in Pro lite and in Pro I was happy I was ready for the final. Going to the final for the last time it's definitely a weird feeling as it's the last time you'll be lining up with your fellow competitors for the season. I got a good start and had third in my site I knew that I could make the pass and I just had to wait till the right time. Moving into third my only concern was to stay on the sled and ride safe as the track was one of the roughest tracks we've ever had. Trying to catch second there just wasn't much room for passing and soon I had to work my way to hold off fourth place from getting by. Crossing the checkers and third was definitely a relief after having not the best weekend and a good way to finish off the year strong. I like to thank everyone that supported me and the team all season long and I also can't wait to get to racing and training for next season so I can be better and stronger and faster for the Pro Open class!"
Ryan Hunt #729
What a crazy season! I can definitely say that I had a blast racing and could not be happier than I was riding with the whole Bailey Motorsports team this season. Everyone involved from my teammates to the Mechanics and Stu himself have contributed to making this one heck of a ride! As for my performance this weekend, I had one goal coming into the weekend and that was to be top 5 in all three finals. I was in a tight points battle with my teammate Eggen for 5th place and was looking to do all I could to finish well. I was able to meet my goals and ended off the season with one of my best races of the year going 5-5-5 in the 3 main events over the weekend. Unfortunately for me, Eggen bettered me in the heat races and edged me out for the top 5 spot in points. I want to congratulate him on all he is accomplished over here, he is once heck of a rider and an even better team mate and friend, I am really going to miss that him around the trailer.
As a whole I am happy with my 2017 racing season. One of my main goals was to work on my consistency, and although it is not quite where it needs to be yet I made huge improvements over previous seasons. Although I fell short of my goal to get on the podium (best finish was a 4th) and finish top 5 in points (ended up 6th overall) I was able to earn 8 top 5 finishes and battling up there with the front runners by the end of the season I am proud of how I finished. All of this wouldn't have been possible without the awesome support of the Bailey Motorsports crew and all of the sponsors who support us. Till Next Year!
Mitch King #18
The csra snocross series held their final event at horseshoe valley ski resort this past weekend and what a way to end an amazing season with amazing finishes on an unreal track. Horseshoe always hosts an amazing track with lots of spectators and a great event. Through the season I had been behind in points due to a medical condition and been hunting for the number one plate all season long. With a mind set to take that number 1 spot I pushed hard while being consistent allowing me to step on the top of the box basically every weekend. A lot of hard work came from me, my dad and tom Wilson. I wouldn't have been able to race like I did and win both championships if it wasn't for those two. They have worked so hard and I can thank them enough for all their effort they put forward throughout the whole season. Skidoo had built a killer sled this year and it allowed us as riders to really ride them to their full potential. The weekend at horseshoe couldn't have gone better. I managed to stay out front every race except for one where I crashed off the start and worked my way up to 4th. Everyone has been pushing really hard this season and I want to congratulate all of you racers for your hard work and amazing riding! A big thanks to bailey motorsports for really making me feel a part of the bailey Motorsport family. Everyone was so supportive and welcoming and I really appreciate everything you guys do for us. Amazing season thanks to everyone I really do appreciate any of your support it means a lot #baileymotorsports #Skidoo #Amsoil #stongerecreation #Dayco #Wallacechevrolet #studboy #hmkusa #TroyLeeDesigns #caproskis #vpfuels #roxspeedfx #hcpdesigns #mbrp #mbrppowersports #mbrpathletes #Scottgoggles #teamltd #tekvest #Fox #139designs #Flybyumotorsports #Centralmarine #osmmagazine #canadacartage #cleanmedia #caravanglobalcanada #muskokasprings #rynopower #camso
Isaac St. Onge #117
Snowbikes:
What a weekend! Three days is a lot of racing. It went by so fast. I blame all the fun and good times we all had haha. The track this weekend was NUTS! Super fun yet scary. Racing up and down the hill made it extremely tricky, Made for some good passing and racing. I was able to win all my races making it a perfect weekend. I even got to clinch the very first CSRA snowbike championship. Was a great feeling and being able to win for my team was an even better feeling!
To think 3 months ago I didn't know anyone under the Baileys race team is odd and crazy. I feel like I have become apart of there family and team. Together we were able to win the first snowbike championship! If you told me that before the series I would have thought no way. We had only one malfunction this year. That's it ! Now that is all because of Derek and the team keeping the bikes in great shape (amazing). The rest of the season we one each and every race. Pretty much a perfect season! That is unbelievable to think about it. Wouldn't be possible without the help of the whole team. This is a year to remember for my self and I hope the Bailey Motorsport team. I had so much fun and have so many great memories to recap on. Thanks to everyone one of you that have step up and helped out this season. We did it ?? Tell next season…
Nathan Bles #218
All I can say about Horseshoe Valley is WOW! I've never raced up a ski hill before and did it make quite a difference and was super challenging! Friday under the lights we raced down at the bottom in some heavy fog which also made it challenging but interesting! Some spots of the track were bright and some were hard to see, but the whole Bailey motorsports team did well, I ended up 4th overall. Saturday was next level, the hill climb was introduced and I didn't know what to think, we took off from the holeshot and was a full on sprint to the top! I ended up 3rd by the top but fell back to 4th on the icy down hill section, I ended up 4th overall Saturday but was super happy with my results! Sunday came around and I was a little exhausted from two days of racing but I was ready for the final race of the year, I spun both holeshots but made it up to 5th by the top of the hill, kept it calm and collective and finished a great weekend! Thank you to Bailey Motorsports and Flybyu Motorsports for everything and a wonderful race season! I look forward to the 2017/2018 season!
Mark Freeman #408
Season Wrap up
Coming into the CSRA Snowcross season with a full Snow Bike ride I wasn't sure what to expect, I hadn't been lined up at the starting line for 5 years or so, when I first got to the Sault it was cold, and a full on blizzard, we lined up at the gate and we were off and right then it all came back to me, like riding a bike! I was back in full racer mode and it felt amazing, I also took first as well! The rest of the season went by like a breeze, I met so many fans and friends and teammates I now call my family, brothers, and sisters. Everyone was so helpful and nice and I felt welcomed right after! Travelling every weekend definitely takes a toll of you but I've been doing it most of my life so I really enjoyed seeing all the new places and different race tracks. After finishing my first snowcross season I'm happy with my year one results and no injuries, especially recovering from a broken back summer 2016. Little sad to see Stale Eggen retiring after just meeting him and becoming really good friends with him as a teammate, I look forward to a busy summer 2017 full of moto and training and can't wait for the snowcross season to start next winter!
---
Second last weekend is over and we only have on more race weekend to go this season.
Saturday event was alright. First moto I finished in the back but could feel and was working on my issues through the whole race. Second moto I have figured out my issues and was in second until one lap to go then my sled got an issue so I pulled of the track and walked to the trailer not even shocked, because everything that can happen have happened this season.
In the final a was in 3rd almost all race but finished 4th. And I was happy with that but at that point I still knew I can be on the podium.
Sunday wasn't as good but the practice in the morning was great. In the second moto I was unlucky and got hit by a ski on my leg and to be honest I thought is was broken when I putted pressure on it the first time so I pulled of the track and back to the trailer I went. Sitting in there and find out it was not broken made me happy so then I got right for the final.
In the final I was struggling with passing and the leg, so I finished in 7th place or something.
On more race weekend to go, then it can only go one way because this season haven't been treating us good at all after all the work we put down. So let's do this for on more weekend and show what we are good for! Podium We want!
Stale Eggen #799
Csra snocross at Chicopee ski resort was a great event. Rain on Saturday morning but managed to hold off for the rest of the weekend. And I managed to make a point to everyone that I was there to race and win the championship as I won 12 out of my 12 races over the weekend. I managed to be consistent and smooth along with getting good starts and staying out front. The sled was working perfect this weekend and couldn't be more happy with it. The track csra provided was awesome, like all the other years at Kitchener, they put on a great event and a sweet track that was fun and for the most part safe. Thanks to all my sponsors and everyone supporting me thus far. I couldn't do it without any of you!! Looking forward to horseshoe!
Isaac St. Onge #117
This weekend in Kitchener went well for me, with decent rides and consistent results. Saturday I had some trouble with icy starts and getting held up but having a decent final and riding hard I finished 5th. Sunday was a new day and I was ready to get better results. Having a decent Moto 1 and finishing top 3 I felt better about the track and definitely was ready to take a win in Moto 2. Lining up and feeling good I got a decent start and was running second for most of the race waiting for the rider In front of me to make one mistake for me to take the lead, I took my chance to make a pass and I got it and took the win! The final came up fast and I really wanted on the podium and after getting a good start I fought hard and staying in third for most of the race and battling hard to keep my spot and even try to hunt down the leaders. Good feeling to get on the podium after a tough weekend. Thanks to all my sponsors that back up the team and I hope to see everyone at horseshoe next weekend!
Ryan Hunt #729
The last two CSRA rounds always seem to be favourites of mine, the faster ski hill tracks allow for some great racing and suit my strengths on the machine well. I was able to have a good couple weeks during the break of training and riding at The Compound, and came into Kitchener confident and ready to race. Our Scott Prospect goggles were definitely an asset this weekend, with the rain and warm temperatures, roost was a factor all the riders had to deal with and I had no troubles with vision all weekend. Saturday I had two strong heat races, qualifying 5th for the main, my Ski-Doo got me off to a great start but unfortunately was caught up in a first turn pile-up getting tangled with another rider and could only salvage a 9th place finish. Sunday brought a new day and I was feeling more comfortable with the uncommon right hand turns on the track, running 5-5 in both heats for a top 5 gate pick in the final. Those Stud Boy Traction products got off the line good again and I rode a smart race to end up 5th. I felt great physically and was running my fastest laps near the end of the final and actually gaining time on the front runners I have been chasing all season long. Really looking forward to the last round of the season and want to be fighting for a top 3 position more than anything!
Mitch King #18
Coming into Kitchener it could've been anyone's game with being off the bike for a month and the rainy conditions we've been having, but as we headed into practice I felt fantastic on the snow bike especially cause I've been training on my dirt bike at home all week! Saturday was fantastic, the uphill starting line was definitely interesting but I was second into the corner first moto and toughed it out until my teammate Nathan bles got by me, second moto I came out 3rd out of the first corner and worked my way to 2nd place and stuck with it to finish 2nd overall for the day! Sunday the conditions deteriorated and it was a lot more icy, the uphill start was definitely a lot harder, I was 3rd into the corner both moto's and held my position all race to finish 3rd overall! I'm happy with those results and I can't wait to race at Horseshoe resort this upcoming weekend! A big thanks to sponsors Bailey Motorsports and Flybyu Motorsports for getting my bike there and prepped for the weekend!
Mark Freeman #408
Chicopee was wet. Snow was slushy and the track was big. Made for some interesting racing with the conditions. Saturday I had bad starts but managed to stay clear of the wet snow roost and get to the lead. Track was filled with big jumps and soft holes. Really need to find the right lines to stay of the ground. Was Able to take both moto wins.
Sunday was warm but no rain. Made for good day. Track was much softer but the track was well groomed for us. Made for some great racing. Was able to hit a few more jumps and rail some deep corners. Struggled with my starts a little but was able to push through and grab another pair of wins.
Over all had great time and couldn't be happier with the team and ppl around me.
Nathan Bles #218
Mar 4-5 Eclipse Financial Cup National Snowcross Timmins, ON
Timmins was a cold one. Didn't stop the team from being there and making sure the bikes were all set and ready. Saturday being the first time on the track made it tricky and fun to learn. The track was challenging with large jumps and unique corners. After practice I was able to find the fast lines and hit all the big jumps. First race I managed to be up front quick and sprinted away for a comfortable gap. Stayed consistent and finished 1st. Second race I had bad start but made quick passes for the lead and pulled a few fast laps and won the race. Feeling fast on the track I wanted to see the lap times compared to the pro open Snowcross class. Surprisingly I was around the same lap times as the top 5 guys.
Sunday was a little warmer and made for softer snow. The track was fun yet tough with all the bigger bumps. First race I was able to get good start and pull away with the Win. Second race was tense. Had bad start worked my way to the front and with two laps to go we had a chassis Malfunction with my yeti kit. With a small lead over second I was able to keep fighting to the checkers for the win.
Overall Timmins was a success and I had a blast. The team worked hard to make sure everything was at its best.
Nathan Bles #218
A weekend with a good finish! This weekend in timmins I had several bad races and unfortunate luck. Racing hard and trying to get points I had decent motos going 2-2 and then in the final jumped the gun on the start forcing me to go to the back of the pack. The track was very one line and it was very hard to pass. Finishing in the top 10. Sunday I was hoping for better luck. Motos went well going 2-3 but again with bad luck I got into a big crash off the start in the pro class, being a little sore going into my final I tried to keep my focus and take out my anger on the track to fight for the win. I had a good start and wound up 3rd and wasted no time making the pass for 2nd and then being smart waited for the right time to take the lead as I knew I still had plenty of laps to get it done. I got by the leader fast and started to go as fast as I could to get away from the pack. Seeing my dad and glen cheering me on from the side of the track and seeing how intense they where cheering for me I knew I needed to dig hard and the white flag came out and going around that last corner knowing I had the win was so rewarding after all the bad luck! Really like to thank everyone that supports me and the team!
Ryan Hunt #729
The season is getting closer and closer to the end! This weekend was the one with the best track so far this year. I really enjoyed the track because it had more than one line all around so that's good!
Saturday wasn't the greatest but I was pushing and doing all I could to be better for every lap I did. I ended up in 6th In the final.
Sunday started really good, pulled of a 3rd in the first race and was feeling comfortable with the speed and the sled was working really good.
Second race started with a bad start and it made me frustrated and I could find and rhythm out there.
The final was all right, could pull off a good start since I almost crashed in the first corner but was able to push hard through the race and ended up in 7th. Next race will be in Kitchener so see you there! Thanks to all the sponsors that makes this possible!
Stale Eggen
Timmins 2017
The tight track in Timmins challenged me all weekend. I struggled to find a flow on the track, no excuses though it was all on me. My sled was working great, and I just need to clean a few things up to be battling for those podium positions.
Saturday was an all around rough day, had bad starts in both heat races which kept me from moving forward. In the final I got caught in a pile up in the first turn and managed to climb back to 8th.
Sunday I was able to rebound slightly and felt a bit more comfortable on the machine. I had a great start in the final and ran inside the top 3 for multiple laps before losing a few spots to finish 6th.
Hopefully Mother Nature cooperates and we can get some practice laps in at The Compound before the last two rounds of the CSRA season. Huge thanks to the team and all of our sponsors for making it all possible.
Mitch King
This weekend in Timmins for another csra race was very good weekend not only riding wise but learning wise. On Saturday I ended up 4th or 5th in my first moto of sport 1 but was put a lap down for not stopping before coming back on the track and then managed to win my second moto. But I was back row for the final and had never been back row. I was pinched out and I got 12th off the start and fought through the pack to come fifth. Sport 2 went a lot better winning both my motos and taking the win in the final. On Sunday I got 3rd in my first moto of sport 1, had got caught up in a corner and didn't have enough laps to pass for second. Winning my second moto I felt good going into the final. The final went really well and I won the sport 1 final. Sport 2 went very good as well winning both my motos and battling it out for a close first in the final with Nathan Bles. Thank you to everyone who's been supporting our whole team your help is much appreciated and we couldn't do it without you
Isaac St. Onge
Feb 18-19 Royal Distributing Cup Innisfil, ON.
Another weekend done with my racing family. This time we raced in Barrie.
I'm still working hard to find back to where I was before and I'm getting close.
Saturday I had two decent motos but most happy with the final. Pushed hard and was giving it all I had, ended up with a 4th.
In the practice on Sunday I had really fun, the track was soft destroyed and it had so many and different line options. But of course they groomed it so everyone had the same speed.. the first moto is nothing to talk about but the second moto wasn't too bad.
The final was the best I have done this weekend. Was pushing all the way and was catching the 3rd guy but it wasn't enough time so ended up in 4th in the final. Thanks to all the sponsors and a huge thanks to my buddy Jake Thomas for helping me with the mental game!
Stale Eggen
I could definitely get used to racing in that kind of weather ! The warm temperatures created an awesome atmosphere around the track this weekend with family, friends and fans all walking around the pits enjoying the warm temperatures.
For me I had another fairly solid weekend of racing. I have really been trying to work on my consistency and eliminating small mistakes (and crashed) that can cost big losses in the championship points. Saturday I was able to do just that, had solid starts all weekend and rode to 5-4 moto scores. In the final I rode a good race to finish in 5th.
Sunday I had some small misfortunes in my heat races and managed 8-7 moto scores after two small tip overs (guess I still need to work on that consistency thing). However I was able to pull a top two start in the final and was looking to have a great race, before getting pushed off the track on the first lap. I was able to jump back on and put on a hard charge to fight back to another 5th place finish. I want to give a shout out to tek rider for our awesome Jerseys, they were key in these wet and warm temperatures this weekend and make our whole set up look awesome!
Overall happy with my riding this weekend, just need to find that next level of speed to run with those top guys. Let's do it again in Barrie next weekend
Mitch King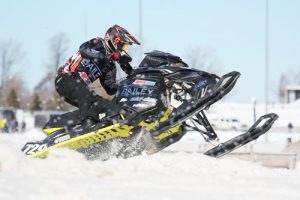 Best weekend yet! Had an awesome results all weekend long. Feeling good going into the weekend I knew I needed to get some points. Being so close to home means a lot more people show up and especially family and friends which puts that extra bit of pressure on you to perform and do good. Thankfully it worked to my advantage giving me that extra bit of pressure. Going 1-6 in motos and then feeling good going into the final I put all the track together and took the holeshot and never looked back. Having good lines and staying consistent with my laps no one would catch me! Such a good feeling to do my victory lap with the checkered flag and drive up in front of all my team, friends and family. Sunday was a new day and I was ready to make it all happen again. Going 1-3 in my motos and really getting the flow of the track I was ready for the final. Sun was out track was set up good and the sled was running great, on the line I waited for the green light and again I got the holeshot! Out front again trying to find lines and stay fast. Finished strong with a second place finish and held off third! Want to thank everyone backing up the team and me! Thanks to my dad and Glen! High hopes for next weekend to get back on the podium again!
Ryan Hunt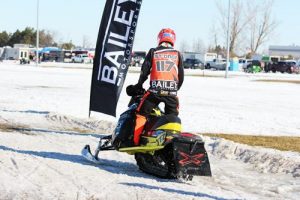 This past weekend at Georgian downs was one to remember!! I had managed to grab the wins for all finals for sport 1&2 Saturday and Sunday!! this weekend was one of my home town races. I had ripped some studs out of my track in one of my qualifiers making my sled seem off. But the team at baileys was able to change the track in time for me to race the final and grab the win! Thanks so much to the team at baileys motorsports for the support that they provide for us! Without their support and richness it wouldn't have been possible! And I'd also like to send a big thank you out to all my sponsors that have supported me thus far! #baileymotorsports #Skidoo #Amsoil #stongerecreation #Dayco #Wallacechevrolet #studboy #hmkusa #TroyLeeDesigns #caproskis #vpfuels #roxspeedfx #hcpdesigns #mbrp #mbrppowersports #mbrpathletes #Scottgoggles #teamltd #tekvest #Fox #139designs #Flybyumotorsports #Centralmarine #osmmagazine #canadacartage #cleanmedia #caravanglobalcanada #muskokasprings #rynopower #camso
Isaac St.Onge
Feb 10-12 Grand Prix Ski-Doo Valcourt Valcourt, QC.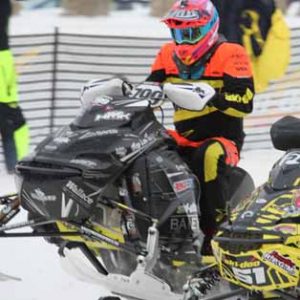 A three day race weekend is done. I decided not to race on Friday because it wasn't a point race so I took the opportunity to see the ski doo museum and I went to the race department to meet the guys at the factory.
Saturday and Sunday was a point race day.
My ski doo race sled was fast this weekend. Me and my mechanic at Flybyu Motosports was trying a lot of different setups on my suspension and we figure out some new stuff.
My results didn't come this weekend but I feel it's not far away! Next race is in Barrie and I'm looking forward to it!
Thanks to all the people and sponsors that are backing us up this year!
Stale Eggen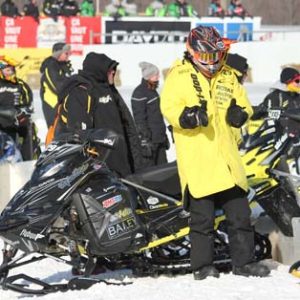 A weekend of ups and downs at Valcour. Going to the hometown of skidoo was always cool and brings lots of pressure with it, as usual it was very cold in the track conditions were rough and hard to see but it's the same for everybody and I was excited to get to racing. I made the decision to ride the mod on Friday for some practice for the weekend, it's always so much fun to get on the mod and lineup aside some of the greatest names in Snow cross like Tim Tremblay especially running third for a lap or two behind them. Saturday came along and there was so many people in my class I went on to having to top-five finishes and going to the LCQ ended up having tons of bad luck in the LCQ and didn't even make the final on Saturday. Sunday I was determined to do better after practice I felt a lot more comfortable on the track and went out for my first Moto and got a fourth and then my second Moto I put my head down and lead from start to finish taking the win. Feeling good about the final I lined up very far outside unfortunately didn't get a good start and found myself in 11th Pl. behind the whole pack charging through the snow just making passes everywhere I could to get as close to the top five as possible. After getting lucky with a big pile up I found myself and fifth and charged for the whole race and gain some well needed points. I just like to thank all my sponsor supporting me and for skidoo obviously for backing us up and putting us on the best sled!
Ryan Hunt
I would be lying if I said I was not a little bit nervous to go back to Valcourt this season. Not to mention riding against huge names like Ishoel and Tremblay, but this was also the track that I was injured at last year. My goal was to ride smart and make the finals. On Saturday we were able to change our gearing set-up slightly and it made huge improvements on the start, my Ski-doo 600 RS was pulling awesome starts all weekend with the help of our Stud Boy traction products. After okay finishes in the heats I was forced to the lcq, but a great start later I finished third earning a back row spot for the final. The 20 lap main event was a tough one, I held 8th for 16 laps buts eventually lost two spots to finish a respectable 10th place finish and 3rd out of all CSRA riders! Sunday brought some crazy weather and very diffuclt conditions for visibility, big thanks to Scott Motorsports my goggles were a saving grace all day. Unfortunately after a hard fought battle in the LCQ I ended up 6th missing the final by one position. However I'm happy with my results and to come out of the weekend healthy and super excited for one of my favourite races of the year at Georgian Downs this weekend!
Mitch King
---
Feb 4-5 Highland Ford CAN-AM Cup Sault Ste Marie, ON.
Round 3 and 4 is over.
After a couple weeks of I got a lot of good seat time on my mod. I have been pushing hard to get the good feeling back on it and I felt like I had it back.
On Saturday I had a great practice, just a couple quick clicks on the fox shocks from Flybyu Derek and the sled felt great!
I finished 3-3 in the qualifying rounds but in the final I had some issues with my sled for the first 6 laps but the sled got better so I was able to finish at 6th.
Sunday started great! I felt pretty good on the track. The sled was mint and my new Scott prospect goggles worked amazing in my Troylee SE4 helmet!
Stale Eggen
A weekend of ups and downs for sure! Going into the weekend I had high hopes. Had solid motos going 5th and then 1st. Felt pretty good going into the final but all day wasn't really feeling the track, had a great start to the race and was running in 2nd when I had a bad crash that would take me out of the race. It was unfortunate that it happened, the track was really rough. Sunday I made sure to be smart and not throw it all away as I needed points. Motos I went 3-7 and then in the final I found myself with a good start again and would take it easy and ride at 80% and finish in 4th! Was really happy about that finish as I defiantly was feeling the crash from the day before. Wanted to thank everyone supporting me and helping me! Thanks to Glen for having my sleds mint for the weekend and all our other sponsors that constantly support the team!
Ryan Hunt
Another awesome weekend with the Bailey Motorsports crew. The tight track in Sault Ste. Marie shaped up for some awesome racing and got better as the weekend progressed. I struggled with sled setup on Saturday, thanks to Derek and Luke we had my Fox suspension working great after some fine tuning.
Saturday racing under the lights brought a bit of a change, I ran two fourths in my qualifiers, unfortunately had a small mistake in he final that left me on the ground, and only managed 11th.
However Sunday turned out to be a much better day. My Ski-Doo 600 mod was pulling great starts all day and I qualified 6th for the final. After a red flag restart I was able to pull the holeshot and lead a few laps, I settled into 4th place and rode a smart race and ended with my best finish of the season! Can't thank all the sponsors and team for their help, special thanks to Chad at HCP Designs who made the trek out to hand deliver our freshly painted Troy Lee Designs SE4 that look amazing. Looking forward to next weekend in Valcourt.
Mitch King
This weekend overall went pretty well being back on the sled and racing again I won all my heat races for sport 1&2. Sport 1 final I was put back a lap due to jumping on a yellow. Disappointing but I was able to win my sport 2 final to wrap things up on Saturday. Sunday went well, I was about to get 1st and 2nd in my heat races in sport one. I won the sport one final feeling good about sport 2 and was able to win my sport 2 final as well getting 1st and 2nd in my heat races for sport 2. Overall a great weekend. I'd like to thank all my sponsors for the amazing support they put out for me and the whole team.
Thanks,
Isaac St.Onge
—————————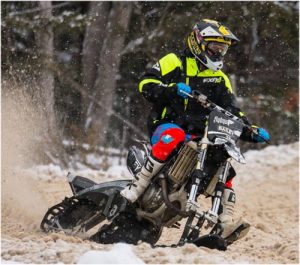 Bailey Motorsports is pleased to announce our newest team member, # 408 Mark Freeman. Mark is an extreme sports athlete with worldwide exposure. Mark started on YouTube midway through his racing career to promote himself and now brings in more than a million views a month from all over the world. He will be competing in the snow bike class riding our Yeti snow mx bike. Mark has an extensive background racing ATVs, freeriding mx and snowmobiles.
Look for Mark's debut at the next round of racing, February 4/5 in Sault Ste Marie. Mark will assist us with our Brand promotion and sponsor recognition using social media and YouTube, enhancing our reach and building upon growing success.
Welcome to the team!
Bailey Motorsports is pleased to announce Nathan Bles will join the team to ride the all new Snowbike class at the remaining CSRA events this season. Coming from a successful motocross and off-road background, Bles has adapted quickly to the Bailey Motorsports Flybyu Yeti Snowbike. We are sure Nathan will bring excitement to this new and exciting class, watch for #218 this weekend in Sault Ste Marie.
——————–
Jan 14–15, 2017 International Snowcross Grand Prix Rouyn-Noranda, QC.
Ryan Hunt #729

This weekend was the first round of CSRA Snowcross! The race was held in Rouyn Noranda, and it was a cold one! Going into the season I had high expectations for myself in the Pro Lite class. I had been training lots and had lots of laps put in at The Compound. Feeling really comfortable on the sled I was very exited for the first race to set the pace of the season. Glen and I were very confident in the sled set up and it was all up to me to put it all together, after a good practice on a super rough track I was ready to race. Like usual I couldn't wait to go, on the line I was pumping with adrenaline. Waiting for the green light to go on I was ready! Off the line I was fast to take the hole shot and from there I didn't look back! From start to finish I checked out and took the first Moto win of the season! Feeling great with the sled Glen and I made one suspension change and went back or for moto 2. Yet again I went like hell of the start grabbing the hole shot again and took the win! So going into the final I was feeling great with 2 Moto wins, went out for the look lap and after that it was all focus on the starter. Nervous and exited to go I knew I could win. I just had to put it all together! Off the start for the third time of the day I got the hole shot and never looked back! Having one of the best races I've had in my racing career. Making a big enough gap from the rest of the pack it was just me racing against myself. Going all the way to take the checkered flag! What a feeling to go 1,1,1 for the day! Also to have my team waiting for me as I came off the track for the high fives of the crowd and the celebration with the team! Sunday was the same deal, I knew what I had to do and yet again the track was even more rough than Saturday and looked like there wasn't going to be any grooming going on either. Moto 1 I had an okay start as it was ice on the starting line and I spun a lot! Coming from about mid pack I made my way threw and finished with a 3rd! Moto 2 went a lot better and I got the start I wanted and took the lead early and had a great race and took the win! Going into the final I was not to happy with the track conditions but I had to go out and give it my all. I had a great start and took the lead and had the whole pack chasing me down! Soon I would drop to second and would ride a smart race and make sure to not throw it all away riding over my head. I made a mistake in the rythem section and second went by me. With one lap to go I stayed smart and finished strong and would yet again make it to the podium! Overall the best weekend I've had in Pro Lite and with the points lead in the class going into the second round I plan on keeping it that way! I would really like the thank everyone supporting the team this year that makes this all possible! Also a big thanks to my Dad for standing out in the cold to cheer me on and give me hand signals while riding! Another big thanks to my mechanic Glen for having everything set up perfect this weekend and for all the countless hours in the groomer at The Conpound! See everyone at round 2 for CSRA Snowcross!
Mitch King #118

You don't realize how much you miss the races until you are back out there again. I was super happy to be out riding my Bailey Motorsports Ski-Doo and I was anxious to get the season underway. That being said I didn't have the weekend I was hoping for. On Saturday a small tip over in moto 1 and a mechanical issue in moto 2 left me with a back row start for the final, I managed to make a few passes and ended up with a 7th place finish which was respectable. Sunday brought another small crash in heat one and a 4th in moto 2. Another mistake in my part left me on the snow again, only able to salvage a 10th place finish. Overall glad to be heading out of the first round healthy and looking to improve. Hopefully Mother Nature cooperates and we will look to improve at Georgian Downs in two weeks. (If anyone wants to help me come up with a Velcro system to keep me on the seat, I am all ears.)
Stale Eggen #799

First weekend is over. I didn't have the greatest weekend but I was able to pull of one heat win thanks to Ryno power for making product so I could keep my body in the best shape!
My Ski-Doo worked great both days and those new Scott goggles fit and work good in the new Troy Lee SE4 helmet! I ended up 8th in both of my finals so I have to do something different for the next race that we have in Barrie in two weeks!Thanks to all our sponsors and team crew for making this happen! Yeah
And congrats to Ryan and Isaac for amazing start on the season the first day! Keep it like this!
Isaac St. Onge #117

This past weekend at the season opener for CSRA Snowcross in Rouyn Noranda, Quebec went really well on Saturday. Racing sport one and two I was able to win all my heat races and finals on Saturday. Saturday night I had some medical issues and was at the hospital. Doctor said not to race on Sunday so unfortunately I was unable to race Sunday.
Glen Goodale
WOW!!! What a weekend!!!
Starting Saturday morning we mixed up a fresh pail of VP Fuel with some Amsoil Dominator. We filled the tank in the sled and away to the starting line Ryan and I went. I was thinking, 2017, here we come…
I helped Ryan line up on the start line with our 2017 RS 600 Ski Doo, the light went green, away Ryan went to the corner in first place. From there he didn`t look back, taking first place, the sled with its MBRP can couldn`t be sounding better.
We went back to the trailer to do some maintenance, changing our Dayco belt for a new one and it wasn`t long until the next heat. At the start, we lined up our C&A Pro Skis to the line, the light goes green and Ryan is gone, leading the pack again. He lost a position over the race, finishing second. Still, I was pumped, my rider was on fire!. All the work we put in at The Compound was paying off.
It wasn`t long until it was time to go to the start line for the final race of the day. Our 2017 RS 600 Ski Doo didn`t let us down. Ryan easily took the lead again with no looking back for a WIN!
Thanks to all of our sponsor for all the awesome equipment and swag. Being on top of the box feels good.
---
2016 Amsoil Snocross National Duluth, MN
First week of testing, practicing and racing is over.
This is usually the hardest week of the year, and it was again this year.
I started the season with getting landed on the first day with practice but I guess that's a part of the game you can't control. Rest of the week I got some good practice and testing in so I felt pretty ready for the first race of the season.
Friday night I tried to qualify for the Amsoil Dominator. I didn't make it this year so I wasn't too happy.
Saturday we were back at the normal racing. We had two practices and I felt after the second one that I could have a great day! I put some pretty good laps in so I felt comfortable. First race I was third out but then someone flipped me over in the first corner.
Second race I had a terrible start and got behind and couldn't see anything because they packed my goggles full of dirty snow. But thanks to the new SCOTT Prospect goggles, they didn't even fog if they were soaked in dirt, snow and sweat. I'm pretty impressed with what they have come out with!
I made it to the LCQ but wasn't able to pulling it off there either.
My trainer Pål Grøtte from Norway made it over this year and I appreciating the backup and the help I got this weekend. I'm looking forward to working closer with you again this winter!
To all the sponsors we have met while we have been down here! Thank you very much for all the backup and great products we use through the season! #Hmk # RoxSpeedFx #Studboy #Mbrp #Amsoil #Fox And a huge thanks to all the crew and teammates for everything! Looking forward for another season with you guys. Let's do this!
#799 Ståle Eggen
What a way to start off the Bailey Motorsports Snowcross season! I had so much fun this past week, all starting at Hill City! Arrived exited and ready to test out the new 2017 Skidoo sleds! We as a team put in a lot of time and effort to be ready for Duluth and it sure payed off as we really looked great as a team. Visually this year and had everything set up even better than last year. Having our graphics perfect, to our custom TekVest jerseys looking great to just the whole set up to show off our sponsors. As per usual I took the first day of riding as just a fun day to get the feel for my new sled and to break myself in to riding again. Throughout the week I tested lots with my mechanic Glen Goodale and found a set up we where happy going into Duluth with! I put in lots of laps and I was feeling great going into Duluth. As always we goofed off after the day was done and had many fun nights as a team. Especially getting some more practice in playing Mx vs Atv on my Xbox lol! Even with special guest Elias Ishoel!
Nervous but exited showing up to practice on Friday I was warmed up and ready to go, track was awsome and I really liked the change they made with it as well! I signed up for sport and was ready to rip. Motos went well the first day I had bad luck getting stuck behind a crash in the first corner and dropped back but managed to battle my way up to 5th and went on the get another 5th in my second moto. Going into the LCQ in the back row was kind of a bummer but I put my head down and managed to get a good start, having trouble with visibility and getting filled in with wet snow roost I found myself in 6th and just couldn't make a pass for 5th and my day would end there. Saturday I was ready to go and just have fun and get some good laps in again. Went 5th and 3rd I think in motos and then in the LCQ just didn't get the start I wanted and couldn't make it up to 5th and placed 7th. Very disappointing for me as I know I can do much much better but I had to keep in mind it wasn't for points and the real championship is waiting back home in the CSRA Pro Lite class! Can't wait to get more track time in over the Christmas break at the Bailey Headquarters and get lots of training in as well before the first race. Thanks to all our sponsors that are supporting me and the team this year and glad we got to see some of you in Duluth!
#729 Ryan  
This week me and the Bailey Motorsports team spent the week practicing at Hill City. Put a lot of testing down on the track and was able to get the sled dialled in for Duluth. On Friday, the first day of racing my first heat race didn't go as planned and I was taken out before the first corner and managed to make a few passes. Second heat race was a lot better got the hole shot and lead from there on out. In the junior 16-17 final I managed to place 4th overall. Saturday I raced sport lite and took 1-1 for my heat races. In the final I battled for first but managed to hold a strong second place. Amazing week of testing and racing. Sled is working good and I'm feeling comfortable on the sled. I'd like to send out a huge thanks to Bailey Motorsports for all their support and hospitality while down in Duluth.
#117 Isaac
 ——————–
2016 Season Finals Horseshoe Valley ResortNov 25-27, 2016
Ståle's Blog from Horseshoe Valley – Season Ender.

Season 2016 is over! This season has had everything. Everything from getting hurt and getting back up again. A lot of ups and downs but we have been working hard and it ended good! We where aiming higher than what we got but we still going strong and I'm really looking forward to a new season with Bailey Motorsports! I know for sure if we would have had more snow this season it could have been looking different on the overall standings in the CSRA. The Ski Doo has been amazing this year, they have done a great job with the 2016 sled and my mechanic Derek at Flybyu Motorsports have been fine adjusting the sled so it would fit me perfectly so I could defend my 3rd position overall in the Pro Open class.
I'm so grateful for the opportunity I got from Stuart Hunt to join his team!
I also need to say thank to all my team mates, the team crew and all of our sponsors!
Thanks for everything this season!
#799 Ståle Eggen
Ryan's Blog – Season finals
This final weekend of the season didn't go how I planned at all, still frustrated with a call that was made on me during Saturday's races took me out of the final. Had solid rides in my Motos and was ready to go for podium until the news I was DQ'd. Stepping up to Pro Open I was exited to get into a new class and just ride. I really liked the mod and I had expericance in the class last year and my best finish was a 7th I a Moto, so I was trying to do better. First Moto I had a solid ride and took 7th and ready for the next one, I waited! The second Moto went Awsome taking 3rd! It was a good feeling to know I can stay consistent and pound out laps on a mod. Going into the final I had a great ride and would end the day on a good note. Sunday didn't go much better as I was still not 100% mentally after the events that occurred Saturday. I had some good rides and tried to end the year happy.
I would like to thank everyone that backed our team this year and make it possible for me to ride. I wish I could have done better but I still had some Awsome races and was up on the podium even more than I thought I would have been for my first year of Pro Lite. Going into next year I don't know if I'm going to make the jump to Pro Open or stay in Pro Lite, but forsure the summer will be filled with lots of Moto and training as next year I want to be on top!
Thanks again to everyone!
Ryan #729
#18 Mitch King – Blog
"A roller coaster ride is the best way to describe my season as it was filled with a lot of ups and downs. After starting off the season with some strong rides I was sitting 4th in points before a crash in Valcourt as the result of a broken belt sidelined me with a few broken bones. I was not going to sit back and just call it quits on the season after working so hard all summer long to get to where I was. I went to work recovering my injury and keeping my cardio up as soon as I could and I was able to come back and race the season finale this past weekend. I was just super happy to be out there doing what I love racing snow machines again and didn't have any expectations about my results. My Bailey Motorsports machine was grabbing great starts all weekend and I had some strong rides. I was able to come away with my best finish of the year in Saturdays final finishing with a 5th, which I was happy with because I know that is where I belong up there fighting for the top 5 spots. This past season has been the most fun I have had racing snow cross, the Bailey Team took me in like family and I can't thank everyone enough. Im ready to put my head down this offseason and get to work! I may not be the most talented racer in the pro class but I can certainly prove I will be the hardest working.
Mitch #18
March 12-13, 2016
ECLIPSE FINANCIAL CUP NATIONAL SNOWCROSS
Ryan's Blog – Timmins
What a weekend of ups and downs, track conditions were a little bit crazy but I made it work. Going out for Saturday's practice I felt good on the sled, Glen had a great set up great for this track in the snow conditions, my Moto's went good I tried to stay consistent but the second Moto there was a problem with too many riders in the class and the start got kind of messed up for me and I ended up tipping over and losing a couple positions but was still able to find my way back for a spot in the final. In the final I took the start from the very far outside and had a good start, made the pass for first after two turns and lead the race from there. I would battle RJ Roy all race trying to keep my position of 1st, I wouldn't let up and would hold first the whole race and made a gap by the end, taking the checkers never felt so good. It was great to be back up on the podium again and taking my second pro light win of the season! Sunday didn't go as planned I had OK rides in my Moto's definitely things to learn from going into Horseshoe. In the final I got a good start running third and unfortunately tangled in the air with another rider, I went down hard and couldn't get up in time to be in a fighting chance for any opposition by the time I flip my sled back over and got it running. There was nothing to learn from that race other than I needed to keep my head up and think about Saturday's ride and moving into the last race of the season at Horseshoe I need to really stay consistent and try to do the best I can to finish off the great year I've been having!
Ryan #729
February 12-13-14, 2016
Grand Prix Ski-Doo of Valcourt
Ryan's blog Valcourt.
An all around good weekend for myself and the team! In the home town of skidoo they put on one crazy event! Track was better then ever and was it ever cold too! Friday I had some good practice sessions trying to dial in the big double section and try out some things with the sled. I waited all day for one race, the Triple Crown final. I had qualified first for this and I was exited to ride! I got a decent start but was held up in the first turn letting several riders by. I charged hard the whole race trying to make passes and stay smart. I would finish with a 6th. Looking forward to the next day I was ready to ride. I hade hole shots all day which was good for our upcoming race in Lindsey. Having good rides I went top 5 in both Motos and had one tough final being in the harsh cold for 7min was hard and took a toll on my hands even after the race I couldn't feel them! Finishing in 7th it wasn't where I wanted to end up but I learned from the race. Sunday I decided to swap sleds and try a new set up. Worked out tell taking a second in Moto one and then top 5 in the next. Do to the cold and no points I decided that I shouldn't race the final and just heel and recoup for next weekend. All around a good weekend and I'm ready to get back to CSRA!
Ryan #729
Ståle Eggen Blog
This is a weekend I want to forget and look forward to the next race. But I can't forget everything because I had some good riding that I will learn from. The whether wasn't the greatest this weekend but that is something we can't do anything with. But anyway, the sled was working really good and It didn't hold me back. We did a lot of testing so we got more setups that we can use the rest of the season.
Unfortunately my team mate Mitch king had a bad crash and is probably out for the rest of the season so I wish him a fast and a good recovery!
Ståle Eggen #799
Isaac Blog
This weekend was an amazing experience seeing all the racing going on at Grand Prix skidoo de Valcourt!! Racing Friday under the lights, I qualified first for junior 14-15 and won the final on Friday night taking my first winning flag. Along with coming second in my triple crown sport final!!On Saturday, only one qualifier, ended up qualifying first for my junior 16-17 final. On Sunday it was really cold but with a warm trailer and an awesome pit crew I managed to grab another win in the junior 16-17 final earning another winning flag. I'd really like to thank stu hunt for always cheering me on and making me feel like part of the team. I'd also like to thank glen and Derek for giving me tips and setting up my sled to make it perform the way it did!! I'd also like to thank my team mates for be very supportive and giving me a hand with anything I couldn't figure out. My experience here at Valcourt was one that will not be forgotten. Thank you to everyone who has helped me come this far!
Isaac #117
January 30–31, 2016
ROYAL DISTRIBUTING CUP NATIONAL SNOWCROSS
Barrie, ON
Ryan's Blog- Barrie
The Royal Distribution Cup sponsored by MBRP and St.Onge Recreation was an Awsome weekeryanBarrieBlognd for the whole team! After looking at the track Saturday morning and seeing that it was very wet and sticky snow conditions I prepared mentally to try to get good starts and get out front fast to keep my vision clear. Practice wen
t good and me and Glen made some good changes to the sled for the conditions and we where both ready for Moto 1. Pulling up to the line I have a good gate pick and got the Holeshot, making good line choices I got out front and never looked back. Having some suspension issues I would need to take my past down a little making 2nd catch up but I would be able to take the win! Making those changes in the right direction I was ready to go for moto 2. Not getting the start I wanted I had to fight all race and ended up in the top 5. Track conditions where terrible for the final and everyone would fight for clear vision and good lines. I got hit in the start making me bobble on my sled and lose 5 positions and then would have to go the rest of the race playing catch up. Trying to constantly keep away from roost my googles eventually fogged again same as last weekend and I would have no choice but to take them off and ride the last few laps without them. Taking a top 10 finish. Sunday was a new day and I wanted to improve. Practice was good and I was feeling better about the track and the rhythm of it. Moto 1 I would finish with a top 5 finish and same with moto 2, giving me a decent pick for the final. Having the confidence in me that I know I can podium I focused on the light and took a good start. Coming out of corner 1 I would be 5th and would charge the doubles and would make up 1 position and then lead to hunt down 3rd. Knowing I had a lot of laps to do it I kept calm and remembered to breath and relax and ride smart. Knowing I had the speed to make a move I went for 3rd and made the pass. After several consistent laps I got close to second but it wouldn't be enough and I would take 3rd! It was Awsome to be up on the podium again and it's always a confidence boost to know that all the hard work me and the team put in pays off. Can't wait for the next race and try to put my Ski-Doo up on the box yet again!
Ryan #729
Ståle's Blog- Barrie
The third weekend with racing is over. Saturday started really good with two heat wins. In the final I had a bad start but was charging all way thru and got 6th.
Sunday was a better day. I started with a 3rd in the first race and in the second race I got second. The final today was the best race I had this weekend. I didn't get the best start but I was pushing all way thru. At one point I only was 0,224 seconds behind the leader over the finish line but we got in to lapers so I couldn't pass him. I finished second in the final so I'm happy with that and are really looking forward to the next races we have left.
#799 Ståle Eggen
Mitch's Blog – Barrie
Had another great weekend of racing at Georgian Downs. My Bailey Motorsports Ski-Doo was blasting off the line stale-King1amazing all weekend, My first heat on Saturday being no exception as I pulled the holeshot and ran a smart race to finish 2nd. Second Round Qualifying went well also with another great start running to third place finish. This set me up with a good gate pick for the final, unfortunately my thumb slipped off the hot start button the the line and I had to start in the back row. After fitting through the snow dust I was able to finish up 7th overall. Sunday Moto 1 started off great, I launched off the line to another holeshot and lead till the checkers taking my first pro open heat win. Moto 2 went great also as I was able to hold on for strong 3rd place finish right behind my teammate Stale. The final did not go as planned, I jumped off the line to a good start but came together with another rider down the start line breaking my front spindle and ending my race early. Just can't seem to catch a break when it comes to the finals, but Im still happy with how the weekend went, I showed great speed in my heats, as long as I keep looking forward the results will come, on to the next one!!
#18 Mitch King
January 22 – 24, 2016
SCMX / CSRA NATIONAL SNOWCROSS
Trois-Rivieres, QC.
Ryan's Blog from Saint Alexis
Tight and close battles all weekend long is how my weekend went. Starting off on Friday in the first heat for triple crown I got a good start and never looked back. Trying to find new lines all race lead to 2nd gaining on me but I held on for a win. Saturday racing wasn't where I wanted to end up. Finishing in the top 5 both Motos didn't even get me into the front row in this track due to the fact that it was so small. So I needed to race the LCQ and finished 4th. Ready to race hard for 15 laps I put my head down and tried to pass as much people as I could. But after about 2 laps my googles completely froze and I had almost no vision. Having to fight off other riders and try to maintain pace. After about 5 laps with no vision at all I had no choice but to take my googles off. I finally could see the track and started to charge as best as I could finishing the race as best as I could. Sunday was a new day and I wanted to improve, sore and banged up from Saturday I felt a little off on the sled but I tried my best to fight threw it. The first 2 Motos of the day I went 5th, and 4th leaving me to go to the LCQ again. I got a good start in the LCQ and held 2nd for the race. Leaving the final to end the day. From the back row I got a terrible start and had to work my way up threw the pack. Passing lots of people not even knowing what position I was in I kept pushing all race and finished up 5th! Great way to end the weekend especially coming from the back row and on a track with minimal passing places. I would like to thank everyone that supports the whole team all year with great and Awsome support.
Ryan #729
Ståle's Blog – Saint Alexis
Friday we had two different types of race, we had one qualify for triple crown and a head to head race. I had a bad start but finished 4 so I charged pretty good. After the qualifying race we had head to head, I was in the second race but was really unlucky and tipped over in the first corner so with only 2 laps with one more guy on the track it wasn't possible for me to catch him.
On Saturday we were back to the normal racing again and I got 2 in the first qualifying and in the second race i was involved in a start crash so I got 6th. I started in the back row in the final and had a good start but was pushed around in the snow dust so I was last after the first corner. I pushed the hole race and finished 7th.
Sunday I got 2-2 in the qualifying so front row in the final. So that did give me a good opportunity for a good race and I used it! After a really good race I finally finished back on the box! I took my Bailey Motorsports Amsoil Ski-Doo up to 3rd spot. After a rough start of the season I finally showed my team and myself that i still have it and it gives me a good feeling for the rest of the season! See you in Barrie back on the box again!
#799 Ståle Eggen
Mitch's Blog – Saint Alexis
St. Alexis des Monts
We had another good race weekend in St. Alexis. We definitely had some obstacles to get over but I have an amazing team that stuck behind me and we were able to pull it all together and make up some points on the competition. The weekend started off great by taking a 2nd place in my Triple Crown Qualifier on Friday night under the lights.
Saturday morning started off great with a 2nd place in Moto one, a bad start in Moto 2 held me to a 5th place finish but still qualifying front row for the final. My Ski-doo launched off the line to a second place start. I was battling for podium position when j was hit hard by another rider which snapped my front shock ending my night early. A huge thanks to team Mechanics Derek and Luke for staying up well into the night to repair the damage.
Sunday morning saw an early start and another solid Moto finish with a 3rd. Moto 2 did not go as great as I was hit hard by the same rider who connected with me in Saturday night's final knocking me off the track and sending me to the LCQ. I did what I needed to do to make the final and took the win in the LCQ. For Sunday's final I was looked to have a smooth and smart ride. I worked my way through the pack after a back row start and battled to a 7th place finish.
I am feeling more comfortable in my machine every weekend and can't wait for next weekend at Georgian Down which is always one of my favourite races of the season. A huge thanks to the whole Bailey Team for making it all possible and its back to work in the gym this week to make sure we are ready to go for Barrie!?
#18 King
January 16 – 17, 2016
INTERNATIONAL SNOWCROSS GRAND PRIX
Rouyn Noranda, QC
Ryan's Blog – Rouyn Noranda
Kicking off the first round off with a bang! Pro lite is a big step but I tried to be mentally and physically prepared. Saturday I was ready to go and come the first Moto I was warmed up and ready. I had gate #1 and tried my best to get a good start, visibility was very bad due to snow dust. I fought hard and ended up 7th. The second Moto I was determined to do better I had an ok start and made up some positions and at the end of the race I ended up 5th or 6th. Coming to the final I had to start from the back row but I had motivation the whole race to do my best and ride hard to the finish. Making a last lap pass to finish 6th. Sunday I was ready to ride and get out front! First Moto I had a great start and put my head down and raced me and only me around the track, taking the checkers for my first Pro lite Moto win of the season! Second Moto I didn't get the start I wanted but I charged hard and made a couple spots up and finished 6th. Going into the final determined to make the podium I got a good start and was running 5th and from the first corner I made up a spot and was running 4th. With the leader still in sight I made up another pass and found myself chasing down the leader with plenty of laps to go. Back and forth from 1st to 2nd every lap was a fight to hold the lead! Shutting the door on the second last corner and letting it all hang out till the checkers lead me to take the win! I would like to thank everyone that got me here and for all the support!
Ryan #729
Ståle's Blog – Rouyn Noranda
First race weekend is finally over.
I can say that this weekend wasn't my best, actually the worst I have had so fare her in Canada, but I can't sit here and be sad so the sled did work great, Derek and Luke have been doing a good job with the setup on the sleds. About my results I don't know what to say. Saturday I got 2-2 in the qualifying and I ended up in 7th place in the final. Sunday I had another not so good day on the sled. I ended up 4-4 I qualifying and needed to start the final in back row. I was pushing hard in the final to get up there but I had a bad start and was probably almost last around the first corner. I ended up 9th in the final. My only job this week is to find back to the old me!! See you guys next weekend! And yeah, I'm pretty stoked about my team mate Ryan that stepped up the game and won pro lite! Good job "brother":-)
Ståle Eggen #799
Mitch King #18 – Rouyn Noranda
Overall I'm extremely happy with my first weekend as a part of Bailey Motorsports team. My weekend started of solid running 4 and 3 in my qualifiers on Saturday which put my front row for the final, my Ski-Doo ripped a great start and I was running in about 6th position before I had a small crash in a rhythm section. I was able to regather myself for a 14th place finish. Sunday I came out looking for redemption, I had 2 awesome rounds of qualifying, pulling great starts riding smart and strong and was able to pull of a pair of 2nd place finishes. This qualified me 5th overall for the final, I had a great gate position and pulled a top 5 start, unfortunately I was hit from behind in the first rhythm section sending me over the handle bars and my sled into a cartwheel. I was able to regroup and put in a few laps for points with a bent up machine. Overall a few ups and downs on the weekends but I was super happy with how my machine worked and the speed I had on the track considering it was only my second time riding a machine this season! Looking to build off my qualifying results and put that Bailey Motorsports Ski Doo on the box next weekend in St. Alexis des-mount!
#18 King
Isaac St. Onge Blog – Noranda
Saturday: came out with the holeshot and won Moto 1 of junior 1. Placed second in junior 2 Moto 1 and pulling another holeshot ended with another 1st in junior 1. Ended the day with a 3rd in junior 2 on Saturday.
Sunday: started the day with a 1st in junior 1 along with another 1st in junior 2. After battling for the lead crashed of the face of a jump ending up with a 5th after trying to battle through the pack. Ended the weekend with a 1st place in junior 2.
Isaac #117