Ryan Hunt
Race Number: 729
Class: Pro
Type of Sled: 2018 SKI DOO 600RS
Years Racing: 15
Goals: Win!
Sanctioning Body: CSRA / ISOC
Why I Race: For fun and to hang out with my
teamates and Dad
Accomplishments:
2017 – 4th Pro lite
2016 – 5th Pro Lite
2015 – 3rd Sport 500
2014 – Placed on Podium every weekend I raced, with multiple wins * out 4 events due to injury suffered at 2nd round.
2013 – Junior F2 Champion, 2nd Junior 2
16/17 yrs), 3rd Junior 1 (14/15 yrs)
2012 – Novice 2 Champion
2011 – 4th Novice B
2010 – 2nd Novice B & Novice 1
2009 – Novice A Champion
2008 – 120cc Mod Champion, 2nd Novice A
2007 – 120cc Champion
---

Yanick Boucher
Race number: 53
Class: Snow Bike
Bike: Yamaha 450 & Yeti kit
Years racing: 7
Goals: To be in championship contention
Sanctioning body: CSRA/ISOC
Why I race: I enjoy the trill of competition, pushing myself to become a better racer and mainly have fun ridding.
Accomplishments: 2014-2nd Sport 600 2016-3rd Pro lite 2017-8th Pro open 2017-25th overall MX1 National championship
Quote: I am super excited for this opportunity to be joining the Bailey Motorsports team, this will be a first for me at snow bike racing but it sure looks like a lot of fun. I'm really looking forward to start ridding and getting ready for the upcoming season!

Brooklyn Karkoulas
Race Number: 500
Class: Junior 1 and Junior Girls
Type of Sled: 2018 Ski Doo 600RS
Years Racing: 8
Goals: For 2018 I look forward to showing I belong in the Junior classes with the overall goal of racing Pro/Am Women in the future.
Sanctioning Body: CSRA / ISOC
Why I Race: I am a very competitive person and Snowcross is really fun.
Accomplishments:
2017-Transition Girls Champion, Transition and Novice B 5Th
2016- Transition Girls Champion, Transition 7TH
2015- Novice Girls 2nd, Novice 250 3Rd, Novice A 6TH
2010-2014 Worked up the ranks starting with stock 120, and enjoyed multiple podiums on the way.
---
Hailey Belanger

David Enland
Home town: Yellowknife, Northwest Territories Canada
Occupation: Miner
Main Sled: 2016 skidoo 600rs Mod
Favourite riding spots: Whistler BC, Skagway AK, Revelstoke BC
Films: Slednecks 18, 19 and 20 (currently filming), 509 volume 12. (currently filming), Rave X fresh 4, Syndicate of Snow
Years Riding : 15
Goals: Get a invite to Winter X Games, get backflips dialled, learn some flips tricks, send it in the backcountry this season and put together some dope segments for Slednecks 20 and 509 volume 12.
Why I Ride: it's the same reason why I fly. Cause it's in my blood. It's the way I live my life. Its the reason I get up in the morning – the adrenaline rush, the thrill of it and pushing the limits of my self and machine. At the end of the day it's rewarding.
Achievements: signing with Bailey Motorsports, Slednecks and 509

Stuart Hunt
Team Owner
Race Number: 29
Years Racing: 18
Goals: Continue to build upon our success
Sanctioning Body: CSRA/ISOC
Why I Race: Excitement of the competition
and the thrill of helping develop my son develop into a racing professional.
Accomplishments/Wins:
2016 – 1st Pro Master & Sport Master, 2nd Pro Vet
2015 – 2nd Pro Vet, Pro Masters
2014 – Pro Vet Champion, 2nd Pro & Sport Master
2013 – 2nd Sport Master, 3rd Pro Master
2012 – Sport Master Champion, Pro Master 2nd place
2011 – Sport Master Champion, 2nd Pro Vet & Pro Master classes
---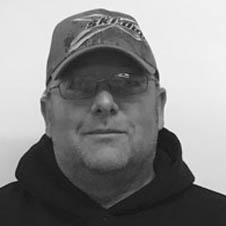 Glen Goodale
Glen has been with the team for 7 years now and has made a difference. He brings the team his mechanical knowledge and a love of racing that started in the mid '80's when he raced motorcycles on dirt and ice.
In the 90's he was asked to wrench for a Mike Morrow on his snowcross team. This lead to working with Blair Morgan when he would join Mike at select events in Ontario.
Glen has the ideal shop location, in Bracebridge, Ont where he tends to our equipment mid week and we have our private test track " The Compound"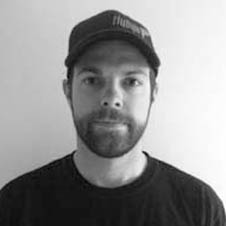 DEREK UTTLEY
Flybyu Motorsports
Crew: Derek Uttley
Derek joined the team in 2015 to run our Pro Open program and work with Ståle Eggen and Mitch King. With several years of experience, Derek quickly made an impact.
As owner of Flybyu Motorsports, Derek also manages a successful business, working with Fox suspension.
His summers were busy, wrenching for multi time Road Race Champion, Jordan Zoke. Always pushing and looking for new ways to get our Pro riders on the top of the box is what sets Derek's program apart from others.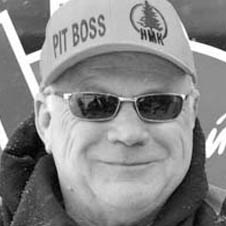 Doug Hass
Doug was the guy who introduced me to the sport of-Snowcross back in 2000. Back then Doug and I shared his 1999 Ski Doo 440. Doug ran the Masters class for a few years, placing 1st or 2nd for three years in a row.
Doug (Pit Boss) Hass has been an important member of our team ever since. Now in charge of everything that happens once the riders leave the RV until he lowers the sled off the jack stand in staging. Often responsible for some great BBQ lunches too!It has been several years since Doug retired from Ice Oval racing. Back in the day he won several race events and championships. Riding Ski Doo for years, Doug and his brother Don were a team factory riders worried about every weekend.